10/10 Would Recommend the Wolverine Agitation Boat
May 13, 2021
The Proof is in the Performance.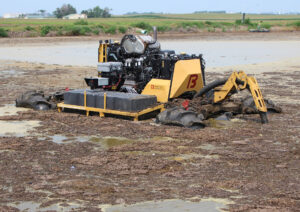 Traditionally, a pump and nozzle-based design have been the holy grail of an agitation job well done, but we've been hard at work testing this long-time theory. Meet the Wolverine agitation boat, the market's first articulating propeller-based agitation boat. Can the pump and nozzle combination be effective and come in handy in certain situations, especially when it comes to problem areas above the surface and along the edges of a pit? Of course! But with that being said, we don't believe it's required to get the job done and done well.
Simply stated, the goal of a great agitator (boat or land-bound) is to suspend solids that rest on the bottom of a manure storage facility (and break up surface material if existent) to achieve a homogenized liquid composition that can be removed easily. This goal is ultimately achieved by producing a moving flow of churning material, by forcing the liquid down vertically in the lagoon (again, traditionally done with a pump and nozzle) to reach and break up the layers that have hardened over time. The emptier the storage facility gets, the better.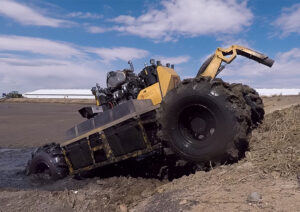 We strongly believe great agitation can be achieved through a propeller-based solution as it has proven to circulate massive amounts of liquid at a high velocity. But enough with what we believe, let's hear from some of the end-users who have first-hand experience with the Wolverine Series agitation boat.
PERFORMANCE REPORTS:
ROUND 1: 
"I've owned various brands of agitation boats on the market and after operating the Wolverine Series for 700+ hours, I will say that this machine is more productive than the competition, and I say this for a few reasons:
The large and aggressive tires not only make getting in and out of lagoons quick and simple, but the Wolverine's ability to maneuver through pits with heavier solids and minimal liquid results in more efficient agitation.
The prop design. The props work directly underneath the water, which produces a very high volume of liquid movement throughout the agitation process. The props create deeper penetration and successfully bring up solids from the bottom of the lagoon.
The simplicity of this boat is a benefit in itself. It's user-friendly and there are not a lot of moving parts, which results in minimal maintenance and issues while on a job. The overall functionality and performance I've experienced with the Wolverine Series, are enough to convince me to make this machine my primary source of boat-based agitation."
– Aaron Ross, Sr. | Lagoon Pumping & Dredging Inc., Columbus, NE
ROUND 2: 
"I have worked as a crew member for Marloo Equipment's manure handling division for several years, and I am very experienced running agitation boats as this has been my primary role in the operation. Recently, I have had the opportunity to operate the Wolverine Series agitation boat and have been pleased with the job it's done. Here are some of the reasons why:
The control I have over this boat is amazing. It handles better than boats I've operated in the past and is very user intuitive.
The Wolverine has been able to drive out of lagoons I've never been able to drive out of before. Not only is this convenient, but it saves me time.
I can honestly say I can get the job done quicker with the Wolverine Series. I say this due to its ability to reliably climb in and out of steep banks and because of the way the Wolverine can handle problem areas in lagoons. When it comes to addressing problem areas in the lagoon, I can turn the tires to get on top of the solid build-up, point the props straight down, and intentionally and efficiently attack the area.
I am very satisfied with the performance of this machine overall. One of the lagoons I was working in had about a foot of solids built up on top, and heavy solids throughout the lagoon. I was able to get the surface cleared within an hour of driving the Wolverine into the lagoon, and within three hours, the lagoon had gotten a super thick consistency. Air bubbles and large chunks of manure continued to rise to the surface through the thick liquid, which told me the propellers were continuing to bring solids to the surface and were keeping them in suspension.
This machine is fairly low maintenance compared to other boats I've dealt with. The hydraulic lines are very easy to get to and change out, and the guards and 'moving parts' are bolt-on and off, which makes cleaning and repair painless.
Last but not least, I really like that I haven't had to worry about cavitation.
– Cody Mogg | Marloo Equipment, St. Louis, MI
ROUND 3: 
"I have been in the manure pumping business from a very young age, but have officially owned and operated my own custom manure handling business for 10 years now. I was one of the first end-users that had the privilege of running the Wolverine Series and I have nothing but positive things to say about it. This machine is exactly what you want out of an agitation boat as it saves me time and money. It gets in and out of the lagoons extremely well, and more importantly, it busts crust like no boat I've operated before. I have a dairy site I pump every year with a concrete storage that the manure gets pushed straight in without flushing. This specific customer noted that the lagoon was pumped down lower than he had ever seen it before after using the Wolverine Series to agitate. Job well done."
– Mike Kampwerth | Kampwerth Dependable Pumping, Centralia, IL
The timelapse above was taken at one of Kampwerth's dairy sites with heavy solids in Illinois in the Fall of 2020 using the Wolverine Series equipped with a front gun and submersible pump.
Rather than taking it from us, the manufacturer who will always stand behind their product, take it from the guys who've run the Wolverine agitation boat first-hand. This agitation solution may be non-traditional, but the proof is in the performance. #TheLegendBegins
Want to test the theory yourself? > LET'S TALK