ROI of Owning Your Own Manure Dragline System
September 21, 2023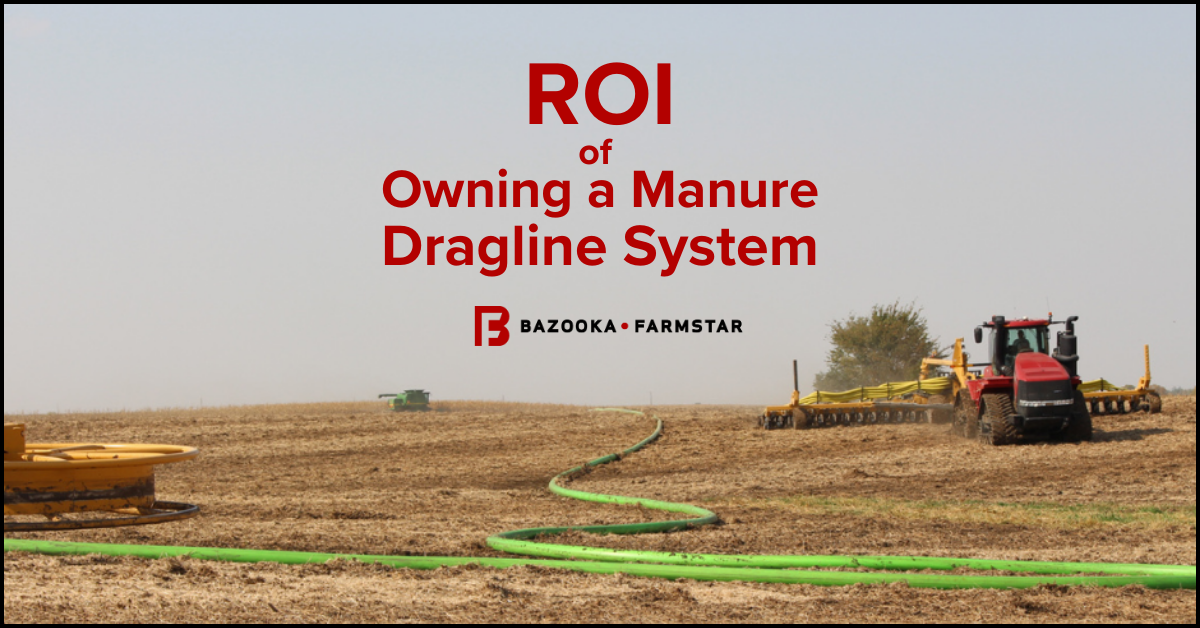 As dairies and pig farms continue to grow in size, they produce more manure each year, leading to an increased demand for manure applicators. Custom applicators are very busy and stretched thin each season, so it can be hard for farms to find available and cost-effective applicators in their area that apply the manure to specification.
Because of these factors, the industry continues to see more and more farmers and integrators invest in their own manure dragline systems to give them control over intangible benefits such as type of application, timing, and placement of application. 
Although a dragline manure system is a considerable investment and learning curve for any operation, those that have invested in their own dragline systems have seen the benefits. The specific ROI of a manure dragline system can vary depending on the size and type of farm as well as the system's design and implementation. In this post, we break down the costs and benefits of investing in a liquid manure management system using a typical operation. 
Liquid Manure Management System ROI
One of the most important questions when deciding whether to bring manure management in-house—versus bringing in a custom applicator—is:
How long will it take to see a return on my investment (ROI)?
To set the scene, we have to point out that each system is unique and every operation has different requirements. But to put a number to it, let's look at a basic complete dragline system.
Components:
28' pull-type standard flex bar with phantom edge units on 18" spacing with auto grease system, clog indicator light, and center flotation tires

Two 250-gallon Full Throttle pump trailers with Cornell 4817MP pumps, Nexus and ECS control systems with remote control valves, and 310HP Cummins engine

Two miles of 8-inch Gollmer and Hummel supply hose with couplers

Two sections of 6" Drag Pro drag hose

Two 1810 highly maneuverable, pivoting hose reels

One hose hustler with side shift

One Wolverine agitation boat

Misc. supplies, including pigs, hose pinchers, menders, etc. 
Buying a complete setup like this ranges in cost based on new vs. used equipment, add-on features, and more. Other costs to consider include financing costs, labor to help run the system, maintenance, training, storage, and depreciation.
Comparing Custom Application Costs
Now that we know what purchasing your own dragline system could look like, let's look at how that compares to the main alternative: custom application. 
Let's say an operation produces 20 million gallons of manure per year. Custom application can cost anywhere from $260,000 to $350,000 per year or more (depending on hauling distance)—and that's without any surprises or unexpected pumping needs.
By investing in a manure dragline system, an operation can save on custom application and see return on investment in just three years. And with well-maintained Bazooka Farmstar systems lasting 10+ years in the field, the payoff for large operations is clear.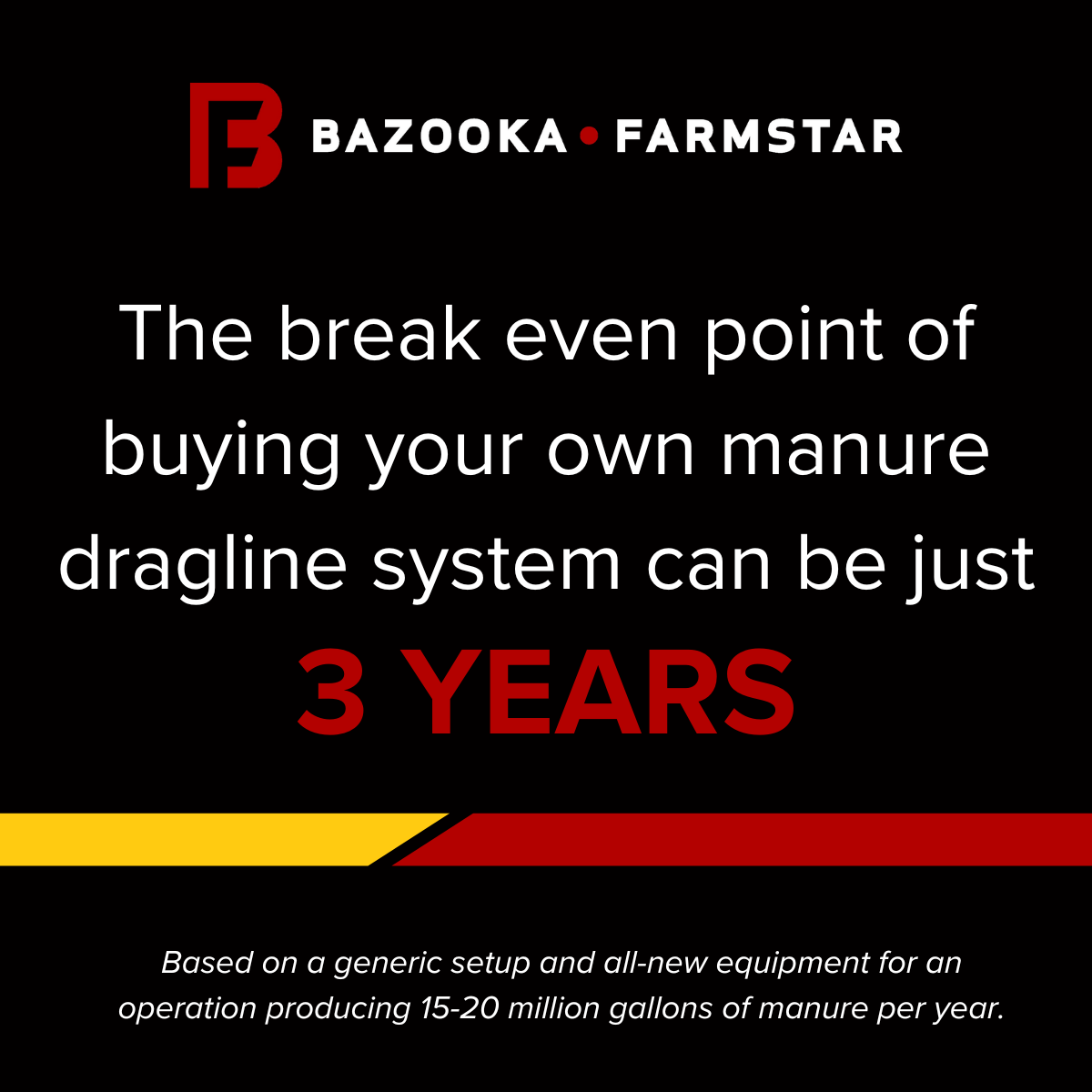 Custom applicators are a great option for smaller operations and are an important piece of the manure pumping and applicating industry. But for many of the growing dairies and pig farms, a dragline manure system is an investment that pays off in the long run.
Benefits Go Beyond Money
The fiscal benefits of investing in your own system are outlined above, but money isn't the only consideration. Other benefits include:
Owner-preferred Manure Application
Owners can use their preferred application—no-till application, for example, which allows precise manure injection, even on living crops, with low soil disturbance and maximum performance. See details about Bazooka Farmstar's Phantom injection units to learn more.
Apply Manure When Needed
Rather than relying on (and paying for) custom applicators to do additional manure applications, dragline system owners can apply when needed, such as immediately after a hay cutting or after waiting a little longer in the fall to help preserve nitrogen. A variable time frame to apply—working on your timeline instead of a custom applicator's availability—may allow owners to plant and establish cover crops before manure application. If your contracted applicators have scheduling conflicts or equipment breakdowns, it can disrupt your manure management plans. 
Apply Manure Where Needed
When you own your own system, you have complete control over exactly where you put manure. Manure can be applied to fields where custom applicators may not want to go or would charge extra to do so. 
Is Owning Your Own Manure Dragline System Right for Your Operation?
Ultimately, the choice between using an outside custom applicator or investing in your own manure dragline system depends on factors such as your farm's size, financial resources, level of expertise, and your long-term goals. Investing in a complete system isn't right for every operation, but it's worth doing the math. 
Want help calculating the ROI for your operation? Contact our team of experts.