BIGGER THAN US Spotlight: JJ Frahm
April 4, 2022
The Definition of Cultural Fit
JJ Frahm, ERP (enterprise resource planning) Engineer, has been recognized as our latest BIGGER THAN US Gamechanger Award Winner. JJ's start at Bazooka was different than most. During his initial interview, we felt his skill set was not suited for the open position, but his outgoing personality and industry experience made a great impression. We kept his application on file until we had a position open that was a perfect fit and welcomed JJ into the Bazooka family about six months later.
Today he plays an important role at Bazooka. His primary job is to organize software to manage day-to-day business operations. JJ strives to help his co-workers achieve their goals and understands that others in the company rely on him. He takes that challenge on with pride, while also helping in his community. JJ said he was appreciative when he heard his name called for being the BIGGER THAN US Gamechanger. "The company recognizes that it is important to have a life outside of its walls, and it is rare to have a company do this."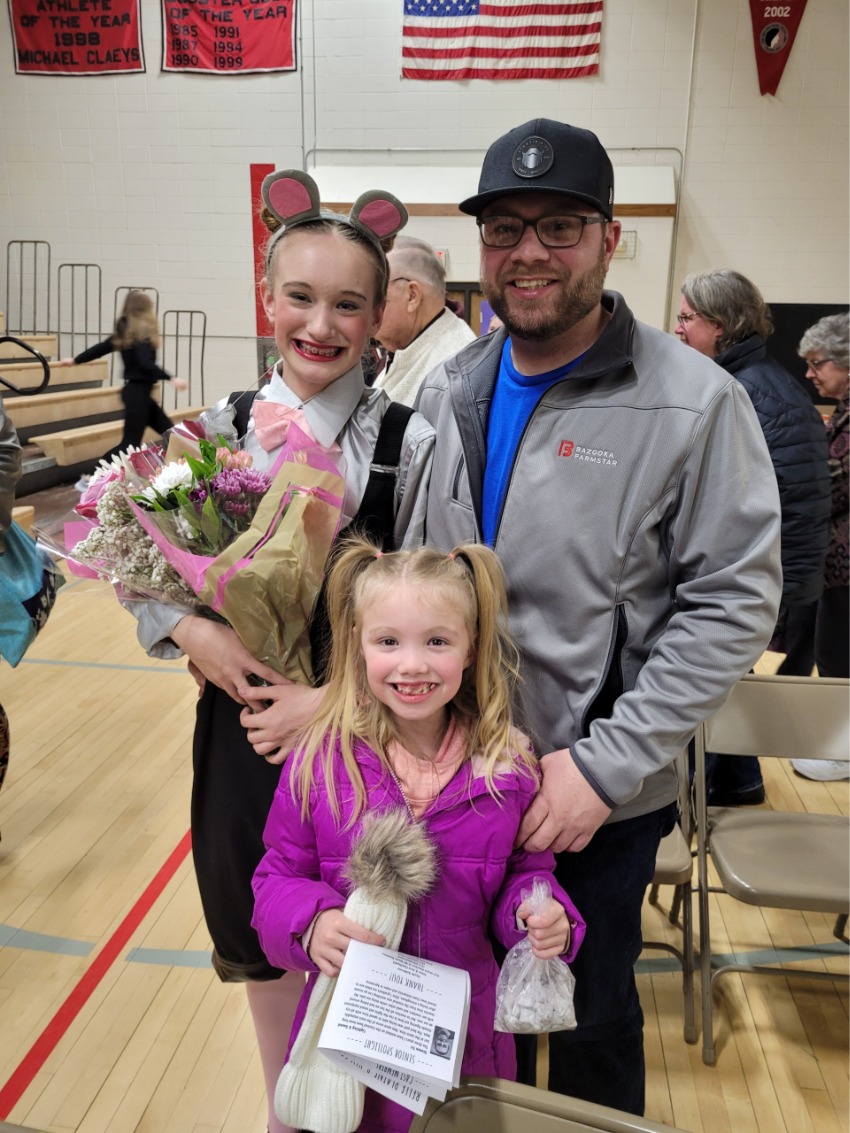 JJ's nominator admired him for being a supportive single father of two daughters—Nyla,12, and Hope, 7. His daughters stay busy being active in music, theater, band, volleyball, softball, track, t-ball, and dance. His family is looking forward to summer to enjoy swimming and camping!
Speaking of camping, JJ truly is a go-getter. On a Friday at 6 PM JJ took off on a 56-hour just for fun trip to Colorado. He arrived in Colorado Springs for an adventure-filled 32 hours. After sleeping in a busy Colorado Springs gas station parking lot for a few hours he toured Garden of the Gods, drove up to his dad's favorite mountain Pikes Peak, and met a friend at a tent-only campground that was at the end of a 2-mile dirt road. On Sunday he toured the Royal Gorge Bridge and then headed back home. He arrived back home in Iowa at 2 AM on Monday morning and went back to work that same day.
JJ serves in his community as the President of St. James Lutheran Church in Victor, IA. As president, he attends board and voter meetings, helps coordinate carwashes, church breakfast fundraisers, and omelet sales at local festivals to help fund the congregation's trip to the Creative Museum and Noah's Ark in Kentucky.
As if he wasn't busy enough, he also volunteers for his community's youth wrestling program. JJ has chosen the HLV Little Warrior Wrestling Program, to receive his $100 Gamechanger donation. "HLV Little Warriors wrestling program is for kids to learn the basics of wrestling and a life lesson of dedication and determination". JJ has no wrestling background but his passion for the program shows as puts his engineering skills to use. He has helped the wrestling coach (his brother-in-law) fill out brackets and simplify the process. What once was multiple papers is now an excel sheet that can generate brackets. It seems like wherever he goes in the community or at work he is making life easier for others!
Advice from a Gamechanger
JJ's advice for others trying to achieve this award is "Show up in both areas of life, your community and job. Volunteer, to the betterment of people around you." JJ goes about his role as an ERP Engineer by trying to make the lives of those around him better.
When asked why should others want to work here? JJ responded "Great culture and working environment, you can shape your role in the company and the company truly lives out the values. So many say they do, but it's more like writing on the wall—that is not the case for Bazooka Farmstar."