BIGGER THAN US: Joel Sutter
September 29, 2023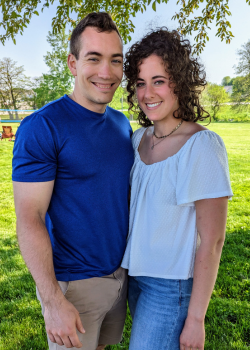 Our recent GAMECHANGER recipients all have one thing in common – a deep appreciation for what keeps them at Bazooka Farmstar, and that's the people. The same goes for our recent Bigger Than Us GAMECHANGER recipient, Joel Sutter.
Design Engineer Joel Sutter spoke with Bazooka Farmstar three years ago at a career fair, eventually landing a full-time opportunity with the company. He hadn't heard of the company before that; however, upon learning that the company offered a role that perfectly aligned with his career aspirations and passions, he eagerly seized the opportunity and became a part of the esteemed team of GAMECHANGERs.
Fast forward to today: he says the people keep him here. "Everyone is helpful and wants to be a part of the team. I also continue to learn a ton, and it's a very hands-on experience. So, a very fast learning curve, and I can see self-growth."
A nominator enthusiastically praised Joel's dedication to effective communication on all his projects, ensuring that everyone involved stays well-informed. Yet, what truly earned him the Bigger Than Us GAMECHANGER award is his remarkable contributions beyond Bazooka Farmstar.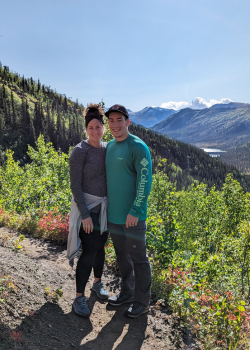 Joel met the love of his life, Lydia, in college, and they've been happily married for 5 years. In those last 5 years, they have discussed being foster parents.
"As Christians, we believe we should care for children, especially if parents are unable to do so. We believe that having a safe place to stay and sleep every night can have a huge impact on one's life," said Sutter.
Upon discovering Joel and Lydia's selfless acts, including their role as foster parents and commitment to volunteering at their church daycare, nominators were deeply impressed. They recognized that the couple went above and beyond to uplift their community. Though initially feeling unworthy of the Bigger Than Us GAMECHANGER recognition, Joel expressed his gratitude, stating that the award "encourages me to be better and live out the value even further."
The most exciting part of this journey is not only getting to know the kids but enjoying the time with them and developing a relationship.  Some of their shared activities include bike rides, tennis matches, and reading together. Their courage and adaptability underscore their commitment to living out the Bigger Than Us value.
Receiving the Not-for-Profit donation is Safe Families for Children. This group seeks to keep children safe and families together. Safe Families for Children is rooted in faith, fueled by radical hospitality, disruptive generosity, and intentional compassion, to build a network of caring and compassionate volunteers to support families facing social isolation. Our goals are to prevent child abuse and neglect, reduce the number of children entering the child welfare system, and support and stabilize families.
Joel's choice reflects his deep belief in this noble cause. "This organization is a great way to help keep families together and not start the cycle of taking kids out of the home."
Want to join the GAMECHANGERs? Look at our open positions on our Careers page or fill out our pre-employment application to get started on your Bazooka Farmstar journey today!