BE SAFE Spotlight: Tom McVey
March 17, 2022
Safety Does Not Happen by Accident.
Our first quarter, BE SAFE Gamechanger Award Winner is, drum roll, please…Tom McVey! Tom = Shocked face.
When Tom heard his name called to be recognized for this award, there was a look of pure astonishment on his face, followed by a well-deserved grin. "I was only doing my job because I don't want to see anyone hurt." What Tom considers 'only doing his job' is beyond what is expected, and that is the mindset of a gamechanger.
Tom was part of Bazooka's safety team back in 2017, and although he no longer holds an official title on that crew, he continues to carry out duties he was accountable for 5+ years ago. Here's what we are talking about: According to one nominator, he was asked on only one occasion to assist in checking emergency exit lights and fire extinguishers monthly to ensure alignment in our facility with OSHA compliance. He continues to carry out this duty without any prompting or follow-up, and with a great attitude to boot. Although it naturally takes Tom a little longer to complete this monthly audit with the expansion our facility has recently undergone, we know the inspections are getting completed. – Something we might take for granted at times.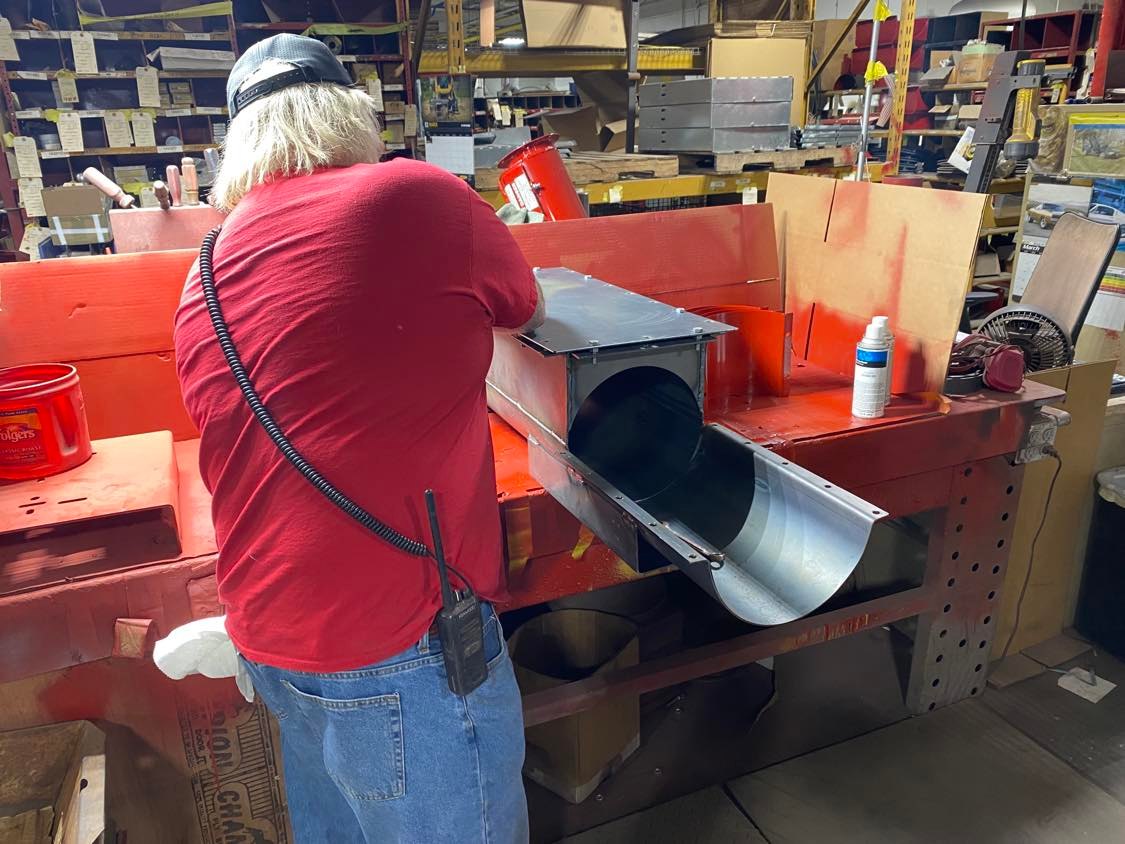 If you follow us on social media, you have likely noticed the immense growth we've experienced over the last 3-5 years, completing major internal projects like the facility expansion mentioned above, and with that growth came job opportunities. Approximately 70% of our employees have been with the company for three years or less. Not Tom. Tom is sneaking up on his TWENTY-SEVENTH work anniversary with Bazooka Farmstar. That number is incredible and almost unheard of in this day and age. Over these years with our company, Tom has had quite the experience:
He had a friend that recommended Bazooka as a solid local employer, so he leaped and started his journey in the fabrication department running the press brake, CNC machine, and various saws.
From there, he wanted to expand his skillsets, so he left Bazooka to work for a machine shop that ended up closing three years later.
He saw that there was an opportunity for him to become an employee for Bazooka once again, so he went for it. "By the time I got home from my interview at Bazooka, I had a card on my front door from my old supervisor asking me to come back to work for him as the lead man of the auger department." The rest is history. That was 23+ years ago, and Tom is still manufacturing augers and he is still enjoying it.
"I am proud of what I produce, and quality is very important. I don't ever want to send out something that I wouldn't like myself." (Another one of our core values, we might add.) Tom credited his father for his diligent work ethic and high-quality expectations. As his father would say, "do your best in a reasonable amount of time." This is how Tom approaches his work as the lead for our auger product line and his contributions to making Bazooka Farmstar a safe place to work.
When Tom is not on the clock, he enjoys spending quality time with his three children. (Quick back story to T you up for one of his most memorable experiences with his family.) He really enjoys the movie Titanic. Tom watches the movie time and time again hoping for a different outcome, but it doesn't happen. (He mentioned with a grin.) One of his most memorable experiences, was when he and his daughter took a trip to Phoenix, AZ, where they visited a Titanic exhibit. "You walk in and they hand you tickets as if you were a passenger on the Titanic, and as you move through the museum, you can hear the sound of the ship's engines, and it really brings the scene to life." He mentioned that you see the rooms as they were as the ship was sinking after impact with the iceberg. Even the cupboards that had plates stacked up in them were scattered around on the floor. "You really feel like you are a passenger on the ship 100+ years ago, and you don't know if you are going to survive the shipwreck." According to the back of their tickets that they received upon entry into the exhibit, he and his daughter were two of the lucky ones that survived the Titanic tragedy.
Tom's ticket from the Titanic exhibit.
Tom has selected St. Jude Children's Hospital to receive his charitable donation. When one of his sons was young and hospitalized for a couple of days following an eye injury, he witnessed so many children suffering. He had no idea what these children were encountering or why, but it pulled at his heartstrings, and he wanted to help. Tom supports the mission of St. Jude, which is to advance cures, and means of prevention, for pediatric catastrophic diseases through research and treatment. Consistent with the vision of their founder, no child is denied treatment based on race, religion, or a family's ability to pay.
Tom said he enjoys working with the employees, customers, and managers at Bazooka Farmstar. "The work environment isn't hard, and if you have a problem, there is always someone you can talk to and get it fixed."