Bazooka Farmstar Launches Improved Vertical Pit Pump
February 8, 2023
Bazooka Farmstar is excited to launch the updated Riptide Vertical Pit Pump for their manure agitation line-up. The improved Riptide Vertical Pit Pump has been redesigned to provide a simpler solution for end-users that can move high volumes of liquid manure with less maintenance. Its standard features and heavy-duty construction makes it a good choice for custom applicators and smaller operations.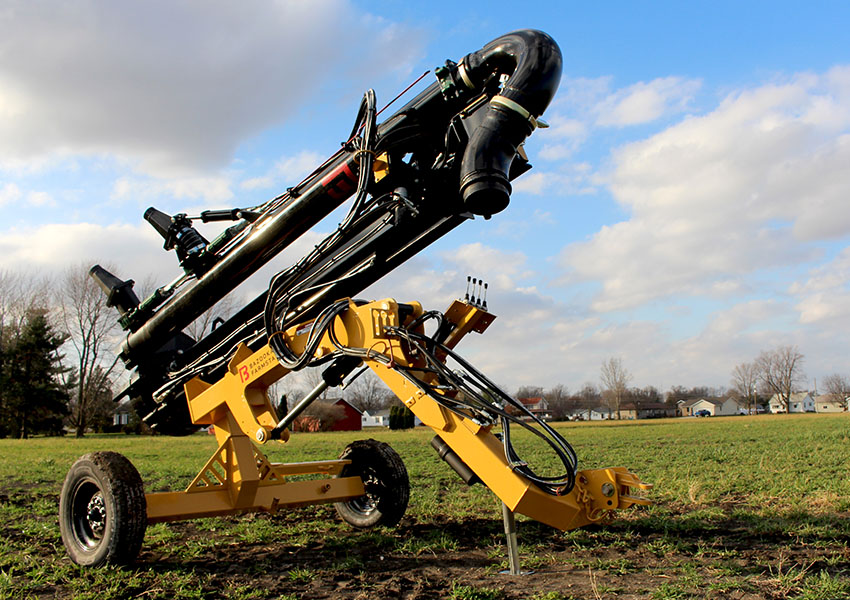 The new Riptide is 15% more efficient than the original model, allowing it to move up to 5,850 GPM. The improved Riptide features a single 8″ vertical pipe and a 20.5″ Bazooka Farmstar Submersible Pump.
The Riptide is available with a 2-point hitch, two styles of 3-point hitches, and a trailer-mounted version.
The trailer-mounted version, with its patent-pending folding technology, is an excellent option for users that work at multiple sites. The folding tongue allows users to move between sites faster, decreases set-up time, and more easily maneuvers the pump into the pit. The trailer configuration utilizes a single PTO shaft for operation, reducing the risk of downtime with fewer joints, boosts visibility and efficiency when placing the pump in the pit, and eliminates the need to transport additional PTO shafts.
The Riptide was also updated with maintenance in mind. Easier access for maintenance and fewer moving parts and mechanical components were implemented into the updated design.
The agitation nozzle(s) fold within the submersible pump's diameter, creating a slim profile for pit entry. When the nozzles are folded, Riptide has a 34″ total width.
Contact us today to learn more or schedule a demo of the improved Riptide Vertical Pit Pump.