BLEED BAZOOKA Spotlight: Steve Pittman
October 18, 2021
Years of Dedication = Well Deserved Recognition
"One of the most important principles of success is developing the habit of going the extra mile." – Napoleon Hill.
Territory Sales Representative, Steve Pitman, has been a boots-on-the-ground, people-first, dedicated employee since 2005 and is the epitome of what it means to go the extra mile. (Literally and figuratively.) He has spent the last sixteen years focused on building relationships in and outside of the office. His passion, character, and industry knowledge recently landed him our Q3 BLEED BAZOOKA Gamechanger award.
One nominator said, "If you can describe the award BLEED BAZOOKA, I am not sure there is another person that dedicates all of their time that they have to Bazooka like Steve."
"I remember when I first started at Bazooka Farmstar, there were only twelve employees, and I was the only outside salesperson at the time. I had a passion for agriculture, I was willing to travel, and Eric Hahn and I worked well together," Steve said.
Steve mentioned that he felt honored to receive this recognition. "The people on our official #Gamechanger wall are super qualified, and we work side-by-side. I am looking forward to retirement knowing that the team will be able to carry on what we've created."
Although Steve is often on the road, he enjoys learning about the other staff members and shares knowledge he has from his travels. Since he has been with us, he has traveled to 27 states plus four providences in Canada. Steve has many memories from tradeshows and end-user visits. Still, one of his favorite memories was when he traveled to Texas and saw all of the opportunities for Bazooka Farmstar positively impact the environment. "Texas is a unique state, in that every product line we offer they could need or use. Oil, feedlots, big city sewers, and large dairies, there is just a wide gamut, and it makes me excited to see all of that potential."
Steve is in it for the "people business." When we asked him what advice he has to offer anyone who wants to succeed in their role, he mentioned, "If you are doing anything, you need passion and a good work ethic. Suppose you take a look at the state college football coaches Matt Campbell (Iowa State University) and Kirk Ferentz  (The University of Iowa); they have a passion for not only the game but the people they interact with. They all work together as teams to accomplish their goals and overcome obstacles, which is the reason why I have been with Bazooka Farmstar for so long. We aren't just numbers here; we come together and value each other's experience to produce great equipment for our customers."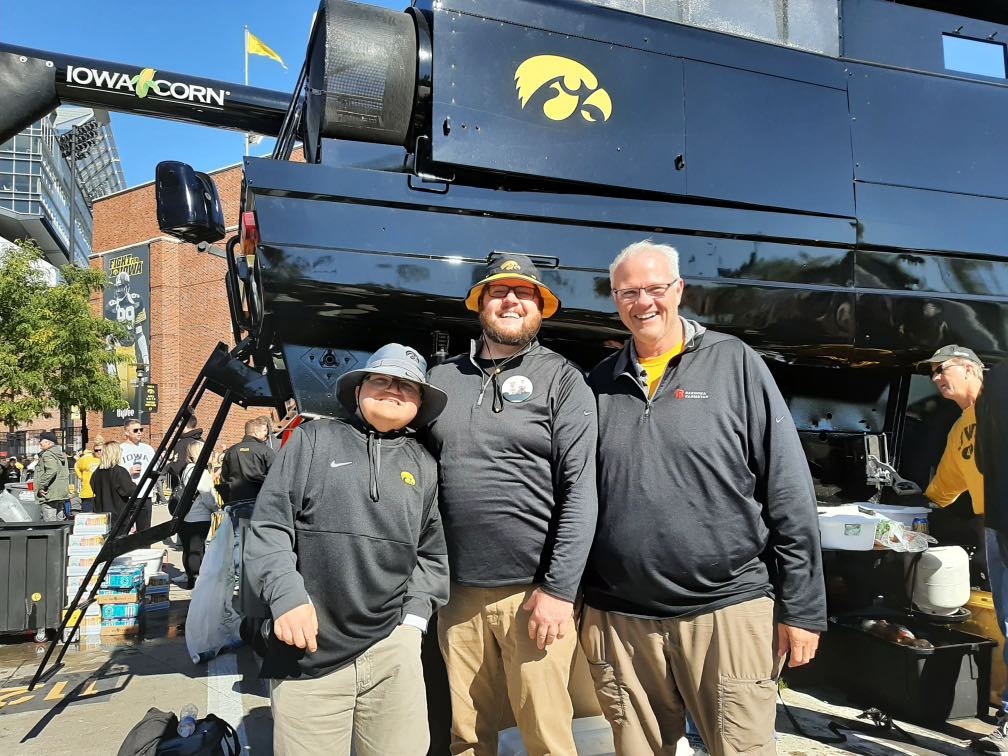 It's no surprise Steve used this analogy to describe his feelings toward working at Bazooka, as he is one of the most avid (Iowa State Cyclone) sports fans you will ever meet. He is a proud ISU alumnus who will be the first to challenge his coworkers to game day outcomes to see who can predict the winner and get the closest combined score for the tiebreaker. This is just one way Steve makes the workplace fun and about more than just the work we do. While Steve is a die-hard employee and generally on the road working, he does make time for a life outside of work. Tailgating at and attending college football games is one of the many things he loves to do. You can find him taking in the great outdoors, fishing, or hunting. Usually, you will find him surrounded by people. He makes time for his family, with five grandkids he loves cheering on at their softball games and extracurricular events. "One of my fondest memories was my brother took me behind the scenes of the Rose Bowl parade to see all of the floats being built."
Agriculture is a large piece of our community, so Steve chose the Washington County Fair Board to receive his $100 Gamechanger donation. "The fair and other events hosted at the fairgrounds take a lot of people, time, and money. I wanted to see that money go back into the community," Steve said.
Steve sets the bar high with his passion for working at Bazooka. We are not sure how many years we will have Steve before he retires, but we can bet that it will be well spent promoting Bazooka Farmstar wherever he may be.