BLEED BAZOOKA Spotlight: Josh Bishop
January 27, 2023
Josh Bishop takes the quality of hard work from being a cowboy to the production floor.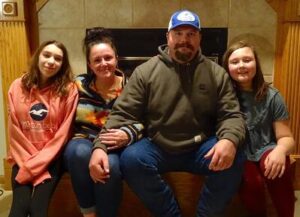 When you think of a cowboy, what comes to mind? At Bazooka Farmstar, Josh Bishop comes to mind, who also happens to be the 4th quarter BLEED BAZOOKA GAMECHANGER. This analogy isn't surprising, though, since the core value, BLEED BAZOOKA, stands for "we work hard and own it. It's a pride thing."
How did this cowboy demonstrate hard work and pride in his job? A nominator said Josh is "worthy of this award because he displays uncommon drive and dedication in the work he does." Josh has lived out this value so much that another nominator called out how he was on vacation and came in early to help his team in final assembly and set them up for success even though supply chain issues caused production delays. His dedication and drive for the success of the agitation boat product line is the definition of BLEED BAZOOKA. Josh developed ways to speed up processes, complete sub-assembly work, and communicate clearly with other groups to avoid issues. One nominator stated, "because of the work Josh did, he and the team got ahead of schedule and have been able to produce boats more efficiently to get to the end-user sooner than thought."
Josh came to Bazooka Farmstar two years ago when he saw the opportunity for career growth within the organization. "It definitely has proven to be true, and Bazooka has offered advancement quickly." After joining and quickly seeing the opportunities aligning with what he wanted in a position, he said, "reason for staying at Bazooka Farmstar is threefold. One- Very passionate about what we do and with my team. Two- I enjoy my coworkers. Three- I like what I do. I don't see a better option or something else that I would want to do besides what I am doing. Unless I were to win the lottery, then I would start ranching."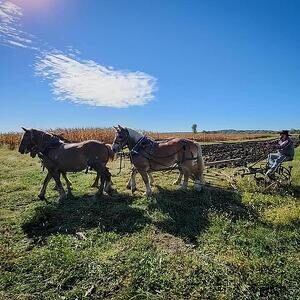 Josh talked about how he is a cowboy at heart and worked cattle with his horses for ten years, aside his family. Josh feels hisbishop 2-1 passion as a cowboy has influenced how he approaches his job as a team lead. His cowboy mindset has undoubtedly translated to his current work and has been recognized by his coworkers.
"Bazooka Farmstar doesn't hold back. If you want to grow and show you want to grow by putting dedication in, you can. There are definitely companies out there that don't offer that, and here at Bazooka, if you have ambition, this company will let you."
Josh has chosen Midwest Old Threshers to receive his $100 GAMECHANGER donation. He has been involved with the non-profit for over 20 years. What are the Midwest Old Threshers? Josh said it is "a reunion of individuals farming back in the day." He volunteers to show horse demonstrations of how farmers would make hay or haul manure in the early 1900s. How cool is that? Josh is involved in the manure industry across multiple decades, which most never have the chance to experience! Josh mentioned how the group puts the donations and funds earned from a show right back into the facility and ground improvements.